Every new school year, I start by doing the standard dog and pony show of introducing myself to the new faces starting blankly back at me. I go through this each hour so that the students realize who or what they are getting in the weeks ahead. Typically this starts out with the expected glazed over expressions coming from the 25 faces staring back at me. I show them pictures of my beautiful but insane children, I describe my hobbies, my love of sports and McDonald's Big Macs, I get a forced chuckle or two as I impress them with my ability to name all the ingredients of said Big Macs, and then, just when I feel them starting to slip away with expectations of an impending syllabus, I drop a screen on them with a slide entitled, "Three Truths and a Lie." One of the statements about their teacher is false, the others are 100% accurate. See if you can figure it out:
My grandfather worked for Al Capone
I am terrified of needles but have four tattoos
I work in a cemetery
I have never been to Europe
Naturally, as I am a history teacher and that is all that students really know about me at this point, they tend to naively believe that I have had both the time and money to go to Europe at some point in my career. This is tragically inaccurate. The closest I've ever been to Europe is the pictures that former students send to me during their travels. It's great. Really. Then, once students realize how much of a fraud I am, teaching about things I have never seen and places I have never been, they move on to the tattoos. I evidently do not appear cool enough to have tattoos, let alone four of them. However, this too is actually true. Fortunately, I am now able to simply roll up my sleeve and show them my wrist to prove the accuracy of this statement. Prior to 2018, they had to take my word for it as the others are not exactly work-place visible.

So, now we are down to the final two statements. Believe it or not, most students would rather believe that my grandfather worked for Al Capone rather than actually go for the idea that their teacher works in a cemetery. The looks on their faces surprise me, without fail, every single year as I attempt to regale them with the fact that my grandfather actually did work as a clerk on one of Capone's "front" businesses (not actually for the mob) and did receive the turkey Capone gave his employees every year during the holidays. Now, I am quite proud of getting to tell this story that links my family so close to history. I love getting to tell my students about how my dad, growing up in Chicago, often went to weddings of his friends sisters in which envelopes were handed to the father of the bride and men wearing lots of gold rings and necklaces kissed each other on the cheeks. Cool right? Nope. Not to 15, 16 and 17 year olds who just realized that the tattooed woman with the black hair and pale skin standing in front of them actually, voluntarily and of her own volition, spends time in…….a cemetery.
Having been through this experience for many years now, I usually take this moment to open the floor up to questions, just to clear things up. Here is a collection of some of the most common queries I have received over the years and my attempts at answering them without (much) sarcasm:
Student: "So like, what do you do there? Do you like, dig the holes?"

Me: Only on the weekends . (Note: I generally clear this one up pretty quick as they are scarily quick to believe it. Apparently my 5'8″, 140 lb frame appears to be the grave-digging type)

Student: "So, have you ever seen any ghosts?"

Me: Nope, typically they don't actually die in the cemetery, nor did they spend much time there in life, so the cemetery isn't a place they would haunt. But the short answer is, no.

Student: "So like, what is the strangest thing you've ever seen in the cemetery?"

Me: Turkeys. (Honest response. It's weird to see them running in the middle of an urban area. )

Student: "So like, what do you actually do there?"

Me: Well, have you ever been to Arlington Cemetery in Washington D.C? (Some students will nod). Do you know how there are lots of famous people there, like JFK? (More nods) Okay, well there are tour guides there who take people around and talk about the important "residents" who are in the cemetery. That's what I do at Bellefontaine. We have some of St. Louis's, and even America's, most famous people in our cemetery, right here in your city. You've heard of Anheuser Busch, right? Well, we have Adolphus Busch. You've heard of the Lemp mansion? We have the Lemps! Lewis and Clark? We have Clark! (I could go on, but by this point, they usually seem to be getting it).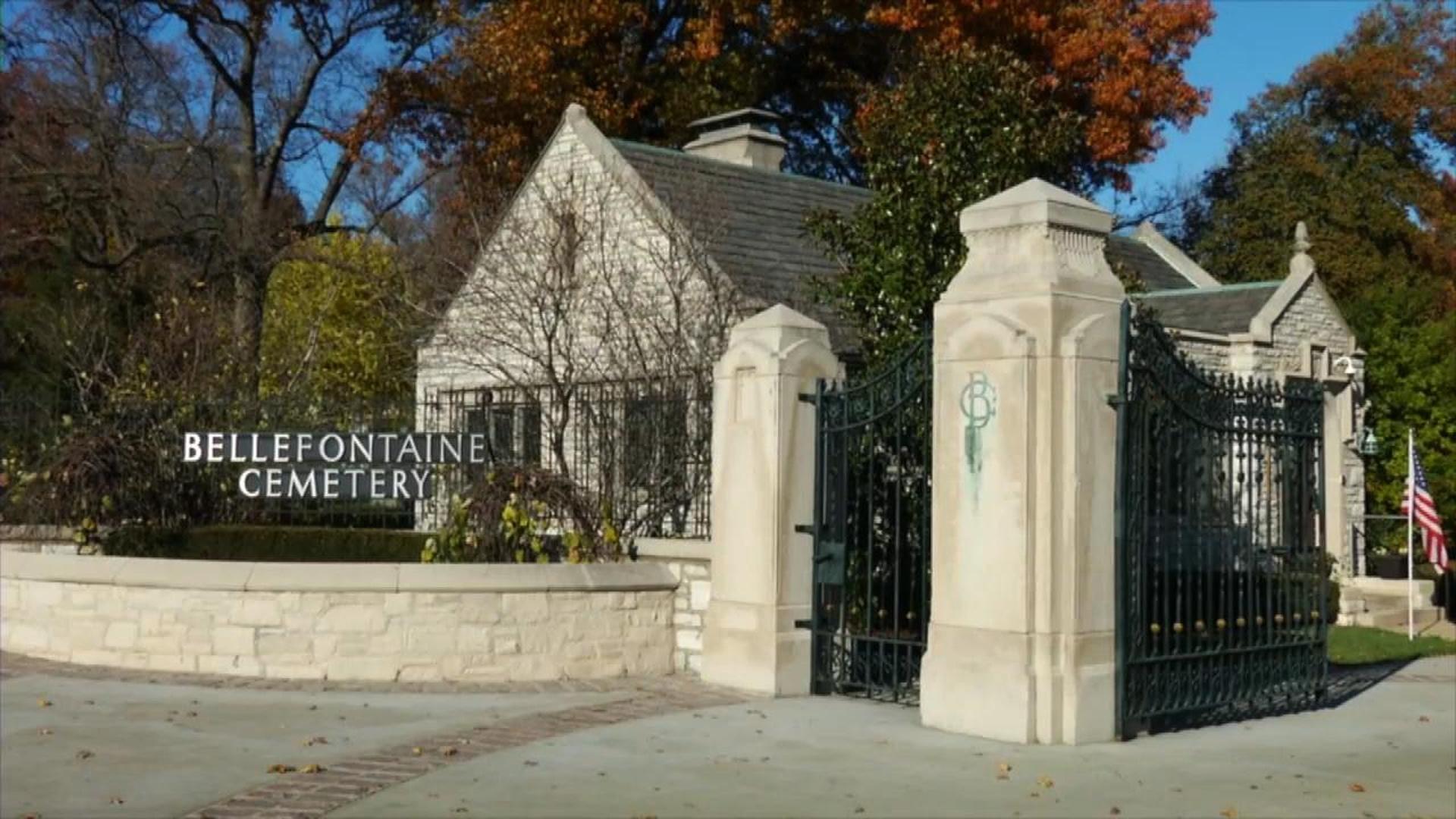 Now, at this particular point in the Q&A session, I am ready to move on to discussion of our syllabus and what the class I will be teaching holds for the a students. But there have been years when that 'one kid' decides to be brave enough to ask in front of the entire class, "So, do you just like death or what?" To be clear, I am not a fan of this question. I've been asked variations of it many times throughout my time as a master guide. Trust me, I get it. I do tend to have a bit of the look that goes with someone who was labeled as "goth" in high school and never completely moved on from it. My eyes are typically lined in black eyeliner, I listen to alternative music, my hair is just a step above black with hints of purple and red and no one could ever say that pastels are a distinct part of my wardrobe, if you catch my drift. I suppose I do look like someone who would enjoy the darker side of life, so to speak. In fact, at my most recent tour event at Bellefontaine, I was actually asked by a patron if I was "trying to go for the Elvira look on purpose" as part of my tours. (For the record, the answer is no. Mostly).
Now, I try to see the aforementioned question from the point of view of the students looking back at me, and in the past, I've tried to shrug it off with humor or a typically sarcastic response. After thirteen years as an educator, very little that comes out of the mouths of students shocks or shakes me anymore. I mean, I teach psychology, in addition to World and Art History. Do you have any idea how many times in one class period you can say the word 'penis' when teaching Freud to teenagers? (Let the record show that, per the count of one student, the number of times is eight). If I can handle a student brazenly asking me, "Mrs. Schoellhorn, do YOU have Penis Envy?" in front of an entire class, then I'm pretty sure I can handle any question thrown at me regarding my life outside of school. But believe it or not, the question about my having a fascination with death does rattle me a bit, even more than the worst questions I've taken regarding Freud and his theory of anal fixation (yep, I've said that in front of teenagers too).

I think what bothers me most about why I choose to spend my time in a cemetery is that, it is not only students who ask me this question. Adults often give me the same response or inquisitive look when I tell them that I'll be spending my weekend up at the cemetery (again) with a smile on my face. But in recent years, after many, many times of enduring the puzzled faces or grimaces that come from explaining what I do, I have realized this: it's not their fault.
When tourists come to visit a cemetery, they typically focus on the deaths of those interred there. What I have realized is that our society has transformed cemeteries and burial grounds into a place of finality. An ending. A period at the end of a sentence. This is one of the reasons why people often feel uneasy about visiting a loved one within them, let alone going to one for a recreational purpose. They see a cemetery as an inevitable end for all of us, a reality that no one wants to face, a reminder of our mortality. But, after many years of visiting cemeteries and serving as a master guide within one, I am here to tell you with utmost certainty that if you look close enough, a cemetery is most certainly NOT about death. Rather, it is about life. Allow me to explain.
Bringing History to Life

From the first moment I walked into Bellefontaine Cemetery in 2005, I was awestruck with the beauty and majesty that stood before me. During my senior year of undergrad, I was composing my senior thesis on the cholera outbreak that ravaged St. Louis in 1849 (more on that in later posts). When my paper was chosen for entry in a symposium later that semester, I was told I needed visuals to go with my work. How in the world was I ever going to find a visual of such a massive plague that had ripped indiscriminately through the city over a century earlier? Fortunately for me, I had uncovered in my research that both Bellefontaine and Calvary cemetery, which were in part created as a result of the outbreak, were only a few miles away. When I first passed through the hallowed gates of Bellefontaine, my eyes and heart were unable to comprehend what I was seeing. This was no ordinary place of rest. This was a place of monumental (no pun intended) importance, not only because of the people who lay within it, but because the cemetery itself ,from its design to its monumentation was,to turn a phrase, a living and breathing testament to the historical context within which they were created. Suddenly, I knew in that moment that I had found a purpose for this visit that would go far beyond the symposium for which I was writing. I was determined, from that day forward, to bring Bellefontaine to life for as many people as I possibly could. That passion inspired this blog.
Cemeteries, if you know how to look at them, are alive and breathing with the stories of the past. The monuments (or lack thereof) are stories in stone and silence that can still speak volumes. By hearing those stories and listening to what is said (or sometimes unsaid), we can bring not only a people, but an entire city or a country back to life. A cemetery, in its purest form, has the ability to reveal the past and present of a society. The best and worst of who we are and who we have or will become can be revealed in where a citizen is placed, the marker that honors them, or the way a cemetery was designed. It cannot be ignored, or denied once it has been seen. The bell of knowledge and understanding, once rung, can never be unheard. This blog, dear readers, is my bell. It is my chance to tell the stories that rest in silence. It is my opportunity to show that, no, I do not enjoy death, but rather, I choose to celebrate and reveal the real life history that rests within the cemetery gates. And as a history teacher, that to me is truly of the gravest importance.
Stay tuned for the next posting of "Gravely Speaking" in which I be explaining how the layout and design of Bellefontaine tells the story of a history that goes far beyond the gates.